menoci is a collection of open source Drupal extension modules that can be used to rapidly deploy an integrated website and data management portal for research projects in the biomedical and life sciences.
The menoci modules have are actively developed and maintained by the University Medical Center Göttingen, Department of Medical Informatics, and Scientific Data Center Göttingen, GWDG.
Based on the Drupal web content management system, menoci introduces multiple extension modules that support scientific data management for life science research projects.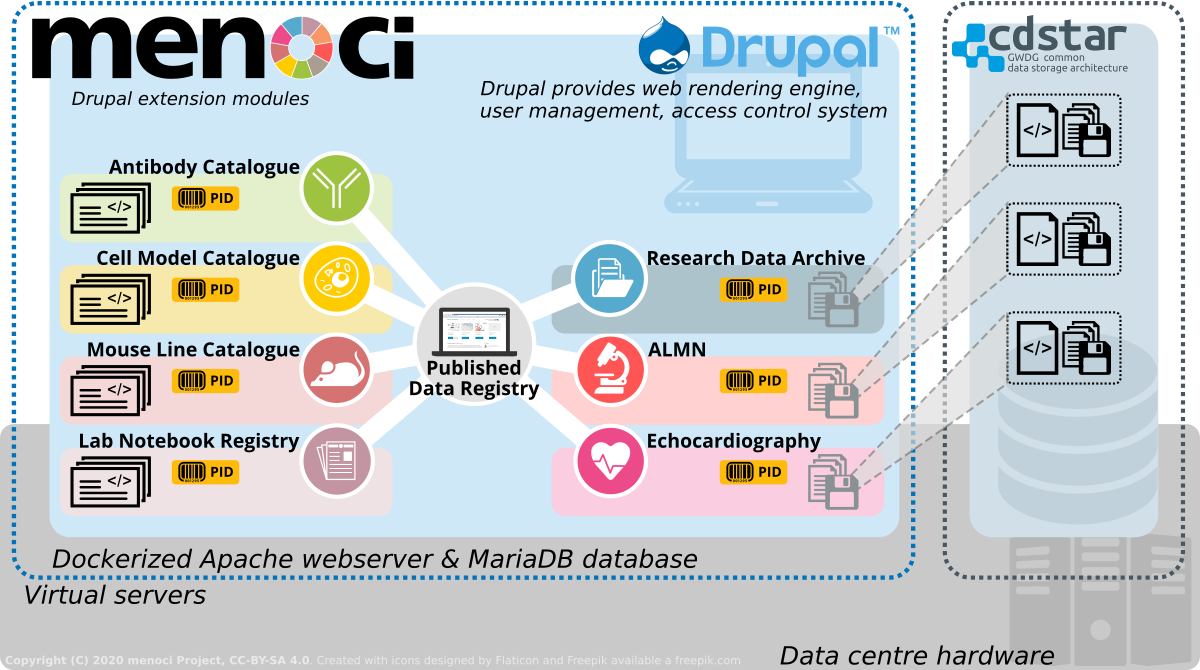 Features of menoci include:
Manage and display the scientific track record of your project in a standardized format (peer-reviewed article, published datasets, preprints, etc.)
Document and display all resources linked to the published data
Keep track of key assets for your biomedical experiments:

Antibodies,
Mouse lines and mice,
Cell lines* and cell models (iPSC, hiPSC)
Laboratory notebooks*

Store your research data in CDSTAR and publish datasets with persistent resolvable identifiers from the ePIC consortium.
*) The menoci modules "Cell Model Catalogue" and "Lab Notebook Registry" are not currently included in the default software distribution but are freely available upon request.
| Project | Description | Duration |
| --- | --- | --- |
| CRC 1002 | The project investigates heart insufficiency in translational medicine. Origin of the menoci software. | 2012 - today |
| CRC 1190 | Compartmental Gates and Contact Sites in Cells. more information | 2014 - today |
| CRC 1286 | The project is specialised in Quantitative Synaptology and promotes a modern infrastructure including super-resolution imaging facilities. more information | 2017 - today |
The menoci software project has been covered in the following scientific articles:
Suhr M, Lehmann C, Bauer CR, Bender T, Knopp C, Freckmann L, et al. menoci: Lightweight Extensible Web Portal enabling FAIR Data Management for Biomedical Research Projects. Feb 2020, arXiv:200206161. PREPRINT
Lehmann C, Suhr M, Umbach N, Cyganek L, Kleinsorge M, Nussbeck SY, et al. Leaving spreadsheets behind – FAIR documentation and representation of human stem cell lines in the Collaborative Research Centre 1002. GMDS 2019, Dortmund. doi:10.3205/19gmds037.
Rheinländer S, Aschenbrandt G, Nussbeck SY, Suhr M, Kusch H. Towards standardized documentation of mouse lines in biomedical basic research. GMDS 2019, Dortmund. doi:10.3205/19gmds038.
Suhr M, Jahn N, Mietchen D, Kusch H. Wikidata as semantic representation platform of the scientific achievements of the biomedical Collaborative Research Centre 1002. GMDS 2018, Osnabrück. doi:10.3205/18gmds173.
Kusch H, Schmitt O, Marzec B, Nussbeck SY. Data organization of a clinical Collaborative Research Center in an integrated, long-term accessible Research Data Platform. GMDS 2015, Krefeld. doi:10.3205/15gmds104.
This project is currently maintained by
---