On any Linux-based host system with docker and docker-compose packages installed: Get the latest menoci release version, for example by cloning the official Gitlab repository:
git clone https://gitlab.gwdg.de/medinfpub/menoci.git
cd menoci to enter the new directory
For a quick exploration, build a Docker image from the shipped Dockerfile:
docker build -t local/menoci .
docker run -p 80:80 --name menoci local/menoci
Open localhost in web browser, proceed with Drupal installation (choose SQLite database since no other database is available for this container)
More permanent installation should be done via docker-compose.yml with command docker-compose up -d:
preferably to path /opt/docker/menoci
version: '2.0'

services:

  drupal:
    build: . # Build local image
    ports:
      - 80:80
    volumes:
      - sites:/var/www/html/sites

  database:
    image: mariadb
    volumes:
      - mysql:/var/lib/mysql
    environment:
      MYSQL_RANDOM_ROOT_PASSWORD: "yes"
      MYSQL_DATABASE: drupal
      MYSQL_USER: menoci
      MYSQL_PASSWORD: ChangeIt

volumes:
  sites:
  mysql:

When using docker-compose.yml file to orchestrate webserver and database containers, be sure to correctly map the database service name from the compose file to database hostname during Drupal installation: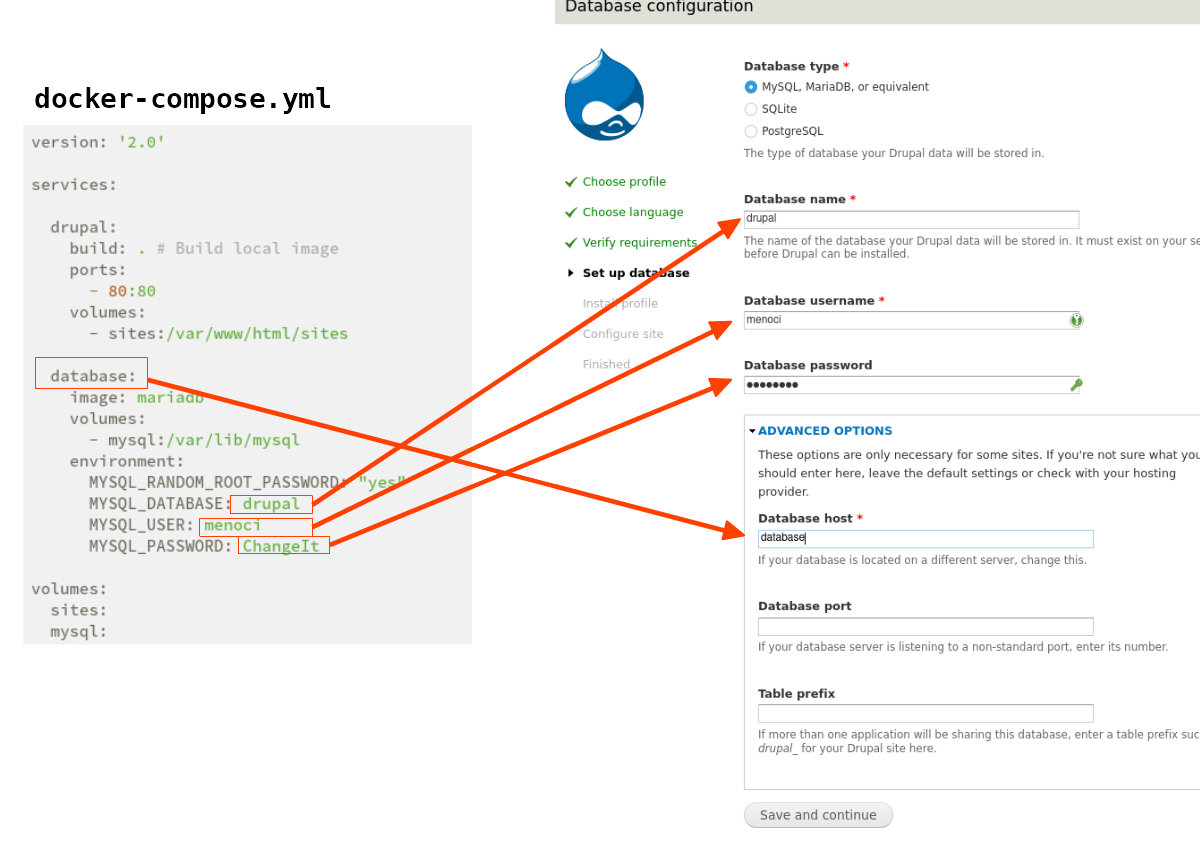 Installation with MySQL/MariaDB as a database server is recommenced.
SQLite may be a valid choice for testing purposes but some Drupal database mapping may diverge between engines.
Only MySQL/MariaDB is tested and validated by the development team.
---